Welcome to Fields Pharmacy
Fields Pharmacy is an independent community pharmacy and has been based in Westdene, Brighton, for over 25 years.
We dispense both NHS and Private prescriptions and will give advice on how to get the most benefit from your medicines. We keep a comprehensive stock of medicines and use an efficient wholesaler service to enable us to fill all prescriptions promptly.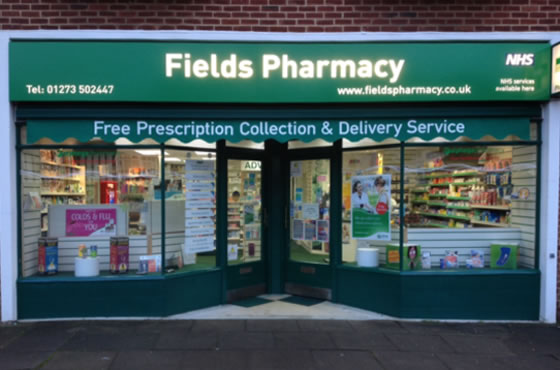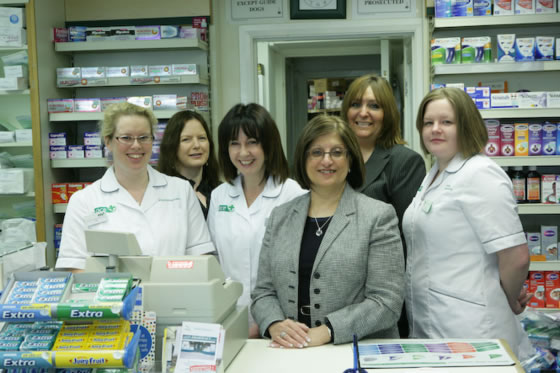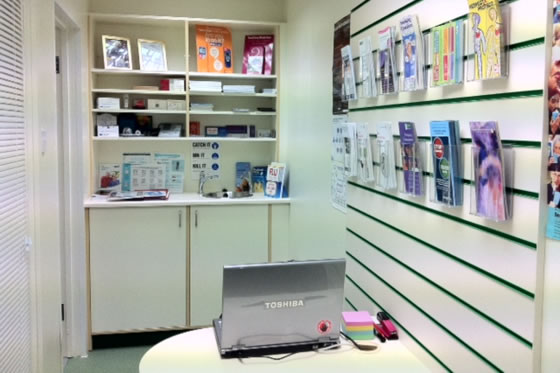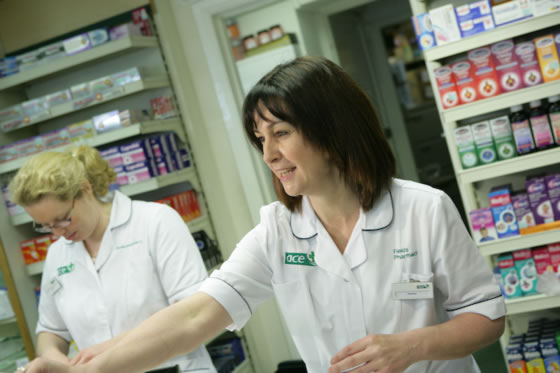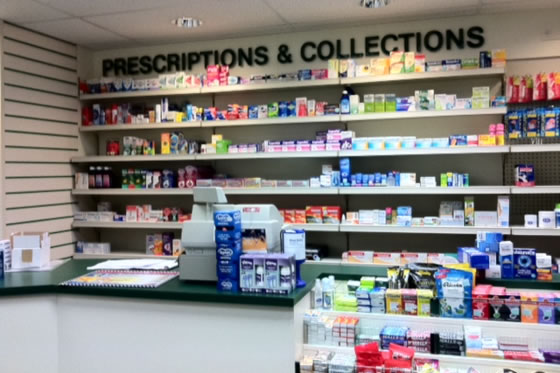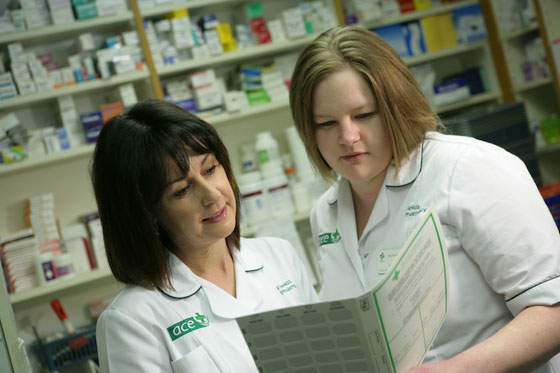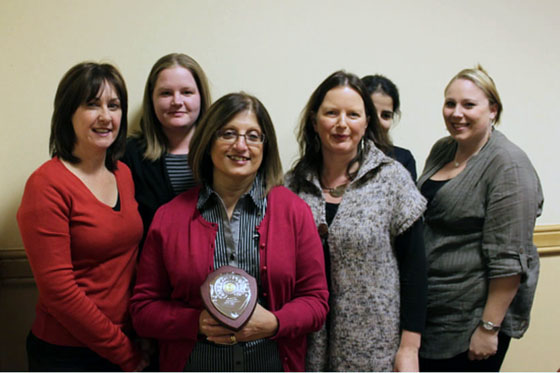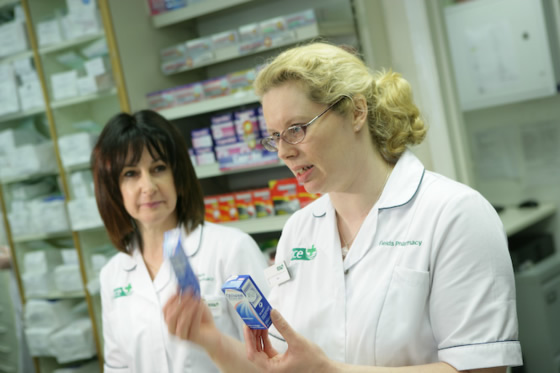 Latest News
October 2016: Cllr. Pete West, Mayor of Brighton & Hove visits Fields Pharmacy

The Mayor receiving his flu vaccination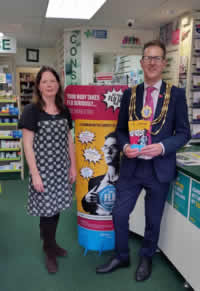 The Mayor with Geraldine, our Pharmacist on duty
The Mayor of Brighton & Hove Councillor Pete West recently visited Fields Pharmacy in Westdene, Brighton to have his flu vaccination and urged residents to book a flu jab either at their GP or talk to their local pharmacist as many of them offer this service too. The Mayor is seen on the right receiving the vaccination from Geraldine, the Pharmacist on duty at Fields Pharmacy.
Pharmacies are now able to offer the flu jab, by trained pharmacists. This service is available Free of Charge via the NHS for the following patient groups:
All people aged 65 and over
Anyone suffering with a long-term condition such as Diabetes, Chronic Heart Disease, Asthma, COPD, Chronic Kidney Disease, Chronic Liver Disease, Chronic Neurological diseases such as Parkinson's Disease or Motor Neurone Disease.
Weakened immune systems.
Unpaid Carers aged 18 or over and in receipt of a carer's allowance, or if they are the main carer of an older or disabled person whose welfare may be at risk if the carer falls ill
Pregnant women at any stage of pregnancy.
Fields Pharmacy also offer a flu vaccination service to most members of the public not eligible for a free NHS vaccination, at a modest cost of £9.50. Please contact the Pharmacy if you require an appointment for a flu vaccination or just walk in for a jab!

The Mayor's Facebook page has more details about the flu vaccination https://www.facebook.com/BHMayor/posts/1242629679091029
October 2013: Race for Life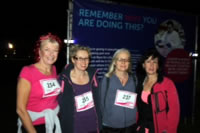 Seen from Left: Lorraine, Lisa, Diane and Pauline (Sara not in the photo)
Fields Pharmacy Staff took part in the Race for Life Twilight to raise funds for Cancer Research on Saturday 26th October 2013. They raised close to £500 for the charity.
February 2013: Healthy Business
An article in the February 2013 issue of inPharmacy (the official monthly magazine of the National Pharmacy Association), outlines the benefit to the local community of the successful introduction of the Healthy Living Pharmacy Programme at Fields Pharmacy last year . The article refers to how this programme has enabled the pharmacy to provide advice on leading a healthier lifestyle and deliver consistent healthy living initiatives and interventions such as smoking cessation, weight management, emergency contraception and alcohol interventions.
Please click here to read the full article.
December 2012: "OK to Ask" Brighton Award Winners

Nasim receiving the plaque from the Mayor of Brighton & Hove Cllr Bill Randall.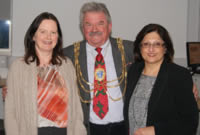 The Mayor with Nasim (seen on the right) and Geraldine (left), one of the regular pharmacists at Fields Pharmacy.
For the second year running, Nasim Ladak the owner pharmacist at Fields Pharmacy was voted as one of the three most friendly and helpful pharmacists in Brighton and Hove in this public campaign by Brighton and Hove Local Involvement Network (LINk).
Medicines can often be confusing, which is why having a helpful pharmacist at hand to answer questions about them is not only re-assuring, but vital. To honour those pharmacists who go that extra mile for their customers, Brighton and Hove Local Involvement Network (BH LINk) and the University of Brighton launched the 'OK to Ask' Award, encouraging people in the city to vote for the pharmacist they felt most deserved the accolade. The winners were presented with a certificate and a plaque by The Mayor of Brighton & Hove, Cllr Bill Randall, at an awards ceremony at the University of Brighton in December 2012.
November 2012: Patient satisfaction survey
We are pleased to publish the overall results of our 2011 - 2012 Patient Satisfaction Survey and would like to thank all our customers for agreeing to complete our questionnaire and for the many positive comments. Please click here to see the survey results.
December 2011: "OK to Ask" Brighton Award Winners
Nasim Ladak, the pharmacist owner at Fields Pharmacy was nominated, in this public campaign by Brighton and Hove Local Involvement Network (LINk) as the second most friendly and helpful pharmacist in Brighton and Hove. Read more
November 2011: Healthy Living Pharmacy
Fields Pharmacy was recently selected to be one of nine pharmacies in Brighton & Hove as a Healthy Living Pharmacy .This will enable the pharmacy to provide more information about health and well being to help improve the health of local people.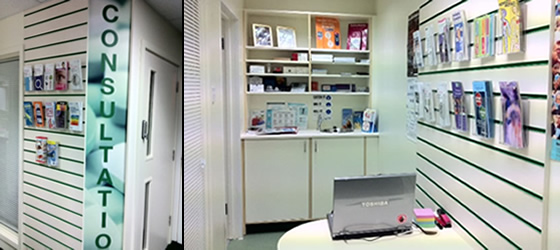 The pharmacy itself has had a refurbishment which now provides an even more open and friendly environment with increased room for consultations.
The bigger consultation room will provide a place for confidential consultations with the pharmacist on duty, separate from general public areas of the pharmacy.
January 2011: Caroline Lucas, MP for Brighton Pavilion visits Fields Pharmacy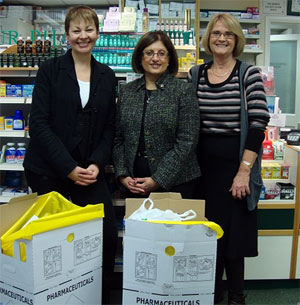 Caroline Lucas, MP for Brighton Pavilion visited Fields Pharmacy, to get a better understanding of community pharmacy, the services pharmacy provides to the people of Brighton and how community pharmacy could support reduction in waste medicines.
Our Services
Services we offer include:
NHS Dispensing
Repeat Dispensing
Private Prescription Dispensing
Free Prescription Home Delivery
Free Repeat Prescription Ordering, Collection and/or Delivery
Free Weekly Medicines Management System – makes taking the right medicine easy
Medicine Use Reviews or Checks with the Pharmacist, in Private Consultation Room

*

NHS Stop Smoking Service

*

Asthma Management Check

*

Free Healthy Weight Management Service
Travel Healthcare Advice
Incontinence Advice and Aids
Mobility Aids
We also stock Homeopathic & Bach flower remedies, as well as Tissue Salts, Aromatherapy Oils, Vitamins & Health Supplements
* NHS Funded